This giveaway is in our archive and is only here for reference.
Giveaway Ends: Monday 20 March 2023 at 03:59:59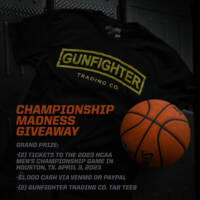 Enter this free giveaway for a chance to win a Tickets to the 2023 Men's NCAA Final Four Championship Game on April 3, 2023 at NRG Stadium in Houston, Texas, $1,000 USD via Venmo or Paypal and Gunfighter Trading Co. Tab Tees.
Open to legal residents of United States.