Giveaway Ends: Tuesday 01 December 2020 at 07:59:59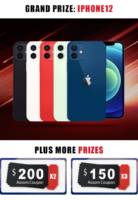 Enter this free giveaway for a chance to win an Apple iPhone 12 with 64GB storage worth $799. Five more winners will be selected to receive either a $200 Aosom coupon or a $150 Aosom coupon.
Enter Giveaway
NOTE: Only people residing in The United States (excluding Alaska and Hawaii) are eligible to win.