Giveaway Ends: Saturday 10 March 2018 at 23:00:00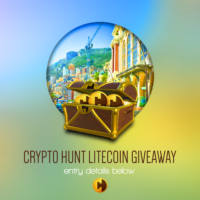 Enter this free international giveaway hosted by Crypto Hunt for a chance to win 2 Litecoins (LTC) currently worth around £260. Like most other cryptocurrencies, the value of Litecoin changes regularly.
This giveaway ends on the 10th March 2018 and can be entered using the link below.
See Winner(s)

This giveaway ended on Saturday 10 March 2018 at 23:00:00
This giveaway was submitted by sajjad4432 and edited by BestOfGleam