Giveaway Ends: Tuesday 02 January 2018 at 14:59:59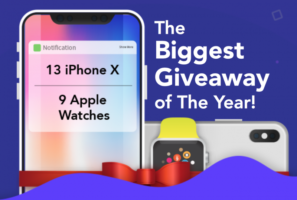 Want to win an iPhone X or an Apple Watch? Simply enter this international giveaway using the link below for a chance to win one of 13 iPhone X smartphones or one of 9 Apple Watches.
This giveaway ends on the 2nd January 2018 so enter now for a chance to win.
See Winner(s)

This giveaway ended on Tuesday 02 January 2018 at 14:59:59
This giveaway was submitted by fortuneagu and edited by BestOfGleam