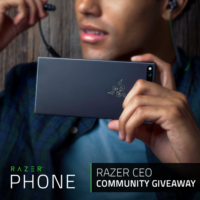 Enter this free international giveaway for a chance to win a newly released Razer Phone. This smartphone features a Qualcomm Snapdragon 835 with 8GB RAM, 12MP dual cameras, a 4000 mAh battery, a Quad HD display with wide color gamut, and Dolby Atmos audio. The Razer Phone generally costs £699.99 but you could win one for free by simply entering this giveaway.
This giveaway ends on the 16th December 2017 so you should enter now using the link below for a chance to win this amazing prize.
See Winner(s)

This giveaway ended on Sunday 17 December 2017 at 07:59:59
This is an international giveaway, however the following locations are excluded: Côte d'Ivoire, Cuba, Democratic Republic of the Congo, Iran, Libya, Republic of the Congo, Somalia, Myanmar, North Korea, Sudan and Syria.