Giveaway Ends: Monday 05 March 2018 at 07:59:59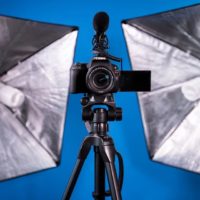 If you are thinking about starting YouTube career or already have a YouTube channel this prize will be a great boost for you.
Enter this giveaway for a chance to win this incredible setup:
1. Canon EOS Rebel SL2 DSLR camera
2. AKSTAR SGC-598 Shotgun Microphone
3. Ravelli APLT4 61″ Light Weight Aluminum Tripod
4. BOYA BY M1 Lavalier Microphone
5. Studio Pro 850w Softbox Lighting Kit
6. SanDisk 32GB Ultra Class SD card
7. White Balance 18% Gray Reference Reflector Grey Card with Carry Bag
The winner of this international giveaway will be selected on the 3rd March 2018.
See Winner(s)

This giveaway ended on Monday 05 March 2018 at 07:59:59
This giveaway was submitted by Goja and edited by BestOfGleam