Giveaway Ends: Friday 26 October 2018 at 22:59:59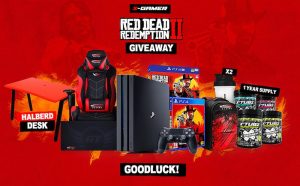 In this free international giveaway one lucky winner will win all of these prizes:
1 X Red Dead Redemption 2 PS4 Pro 1TB 4K Bundle.
1 X Years Supply of X-GAMER Energy.
1 X GT OMEGA ELITE Racing Office Chair.
1 X GT OMEGA 17.3″ APEX Edition Laptop Backpack.
1 X GT OMEGA XXL Mouse Mat.
1 x Halberd Scout Compact Gaming Desk.