Giveaway Ends: Monday 01 January 2018 at 04:59:59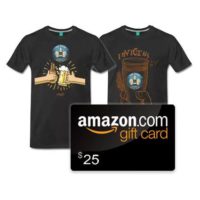 Image Source: unebiereavecdan.com
Enter this free international giveaway for a chance to win a T-shirt and a $25 Amazon gift card. This giveaway is open until the end of December 2017.
Note: This giveaway is in French but anybody is eligible to enter.
See Winner(s)

This giveaway ended on Monday 01 January 2018 at 04:59:59
This giveaway was submitted by dancots but rewritten by BestOfGleam before publishing.