This giveaway is in our archive and is only here for reference.
Giveaway Ends: Monday 20 March 2023 at 22:59:59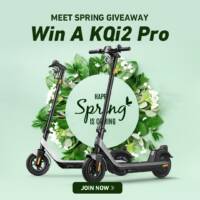 Enter this free giveaway for a chance to win a NIU KQI2 Pro.
Open to legal residents of Austria, Belgium, Bulgaria, Switzerland, China, Czech Republic, Denmark, Estonia, Spain, Finland, France, Croatia, Hungary, Ireland, Italy, Luxembourg, Netherlands, Norway, Poland, Portugal, Romania, Sweden, Slovenia, and Slovakia.