This giveaway is in our archive and is only here for reference.
Giveaway Ends: Tuesday 07 February 2023 at 06:59:59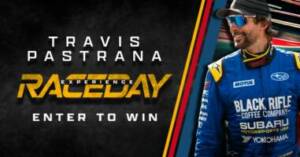 Enter this free giveaway for a chance to win a Two (2) VIP tickets to the race on Feb 18-19, hotel accommodations, $1,500 cash, A meet-and-greet with Travis, Signed Pastrana merchandise.
Open to legal residents of the United States.