This giveaway is in our archive and is only here for reference.
Giveaway Ends: Tuesday 07 February 2023 at 04:59:59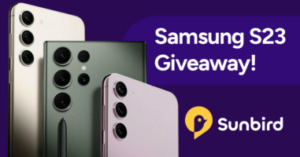 Enter this free giveaway for a chance to win a Samsung Galaxy S23.
Residents of United Arab Emirates, Belgium, Brazil, Egypt, Spain, Croatia, Italy, Lebanon, Mexico, Oman, Philippines, Poland, Romania, Saudi Arabia, and Singapore are not eligible.