This giveaway is in our archive and is only here for reference.
Giveaway Ends: Tuesday 28 June 2022 at 06:59:59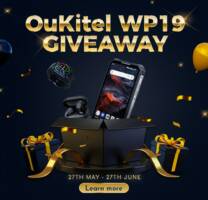 Enter this free international giveaway for a chance to win a WP19 Rugged smartphone (2 winners). In addition, 10 winners will receive an Oukitel smart watch and 30 winners will receive TWS earbuds.