This giveaway is in our archive and is only here for reference.
Giveaway Ends: Monday 06 June 2022 at 13:59:59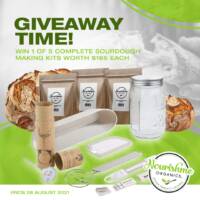 Enter this free international giveaway for a chance to win a complete sourdough making kit worth $165. This kit includes the following items:
3 x 5g Pure Parisian Sourdough Levain
Breadsmart Sourdough Making Tool Kit
Thermometer
1x Quart Ball Mason Glass Jar
Recipe E-Book
A total of 5 winners will be selected.