This giveaway is in our archive and is only here for reference.
Giveaway Ends: Friday 17 June 2022 at 06:59:59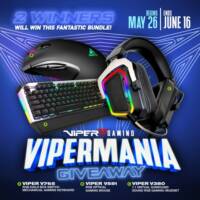 Enter this free giveaway for a chance to win a ViperV765 gaming keyboard, Viper V551 gaming mouse, and a Viper V380 gaming mouse. A total of 2 winners will be selected.
Enter Giveaway
NOTE: Only residents of The USA or Canada are eligible to win