Giveaway Ends: Thursday 30 May 2019 at 03:59:59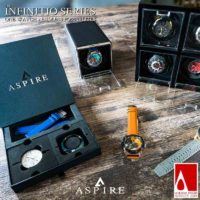 Enter this free international giveaway for a chance to win the following prizes:
1st Prize Winner:
Complete Set of Infinitio Watch of Your Choice (includes 1 Outer Case, 1 Dial and 1 Set of Straps) (MSRP 1,338 USD).
2nd Prize Winner:
1 Cygnus Watch Deneb Series (MSRP 396 USD).
3rd Prize Winner:
1 Carbon Fiber Single Watch Winder (Watch not Included) (MSRP 180 USD).
See Winner(s)

This giveaway ended on Thursday 30 May 2019 at 03:59:59