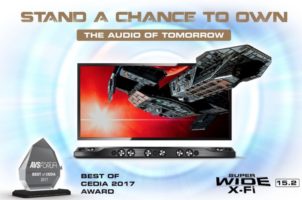 Thanks to this free international giveaway, you could win yourself a Creative X-Fi Sonic Carrier. Simply use the link below to enter this great giveaway.
Comprising of a main unit and a subwoofer, the X-Fi Sonic Carrier is a 17-driver system in an 11.2.4 speaker configuration. It incorporates Dolby Atmos® surround technology and Creative's SuperWide X-Fi™ technology to bring you the ultimate 15.2 3D experience – the best of both worlds in home theater and high-end audio. As one respected audiophile reviewer has said (using an ancient Chinese proverb) of the Sonic Carrier: "All other mountains look small from the highest peak."
The Sonic Carrier delivers a mind-boggling 1000W RMS of brute power. The 600W RMS wireless sub can punch so deep that it is virtually hell-shattering way down deep.
Powered by 8 processors, the Sonic Carrier is not only capable of high-resolution audio playback; it also features an Ultra HD video engine that supports 4K 60fps video playback of local and online content.
Featuring 3 distinct wireless technologies, the Sonic Carrier offers 2 separate Wi-Fi® solutions for audio and video streaming, Bluetooth®, and a zero-latency speaker-to-speaker link to up to 4 subwoofers.
The intelligence of the Sonic Carrier can be upgraded by a simple software download or even a hardware module replacement – it's virtually future-proof!
This giveaway was submitted by lightvader and edited by BestOfGleam