Giveaway Ends: Friday 23 March 2018 at 06:59:59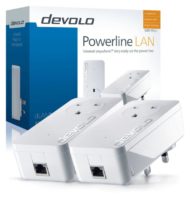 Enter this giveaway for a chance to win a Devolo dLAN® Powerline Networking Starter Kit. This kit allows you to improve your internet connection at home by letting you use regular power sockets as wired internet (ethernet) ports. This allows your internet to work in any room of your house without relying on WiFi which could receive interference and slow down.
This kit is valued at €180 and can be won by anybody worldwide. For a chance to win, simply enter the giveaway using the link below.
See Winner(s)

This giveaway ended on Friday 23 March 2018 at 06:59:59
This giveaway was submitted by jesustr42 and edited by BestOfGleam