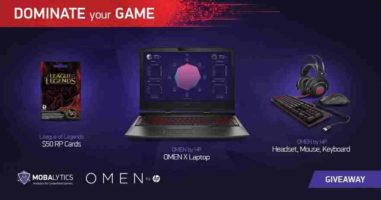 Enter this giveaway for a chance to win one of the following prizes:
Prize One: HP OMEN X Laptop with
7th Generation Intel® Core™ i7 processor
12 GB memory; 1 TB hard disk drive
NVIDIA® GeForce® GTX 1070 (8 GB)
17.3″ diagonal FHD display
Prize Two: HP OMEN Battle Set: Keyboard, Mouse, Headset
Prize Three (5 winners): $50 Riot Points
This giveaway is hosted by @MobalyticsHQ on Twitter and is free for anybody to enter. This giveaway ends on the 25th November 2017, so enter now with the link below for your chance to win.
See Winner(s)

This giveaway ended on Sunday 26 November 2017 at 07:59:59
We could show a flashy animated advertisement here but we won't because they're annoying. Please become a Patron to help pay for the upkeep of BestOfGleam - Any amount helps!